YOU WILL PASS!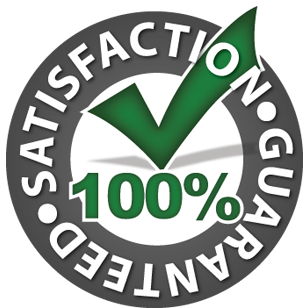 WE WILL GIVE YOU A FULL REFUND IF YOU FAIL…
If you don't pass your ICC certification exam after two attempts, return our course materials. All returns must be postmarked within 14 days of your last test date to qualify.
*Shipping charges are not refundable
Supplement your income or start a career as an ICC Certified Building Inspector
Inspectors, Contractors, Tradesmen, & Real Estate Professionals. Supplement your income or start a new career with ICC Building Inspector certification! ICC certification is recognized everywhere in the United States. Your International Code Council Certificate is valid everywhere!

Become a Certified ICC Residential or Commercial Building Inspector.
Adding ICC certification can qualify you for building inspector jobs or extra income.
New Building inspectors, on average, earn $59,000 per year.
Many building departments offer a pay raise for each ICC certification completed!
Obtaining your Residential and Commercial Building Inspector certification is a smart career move. 30% of all building inspectors are set to retire over the next five years!
ICC Certified Inspectors are in high demand by Architectural and Home Inspection Firms as well as State and Local Governments.
Step 1:

Choose from 30 ICC Building Inspector Certification Courses - See all Courses

Your ICC B1 / B2 License is typically the first license you need to possess. They open the door for employment and provides the minimum level of certification required for work as a certified building inspector. These ICC Exam courses will help you pass the certification exams necessary for a career as a professional ICC Certified Building, Mechanical, Plumbing, and Electrical Inspector.

TLC – HOME STUDY COURSES Help You Pass the 2018 or 2015 ICC Building Inspector Certification Exams:
2018 RESIDENTIAL BUILDING INSPECTOR COURSES
2018 COMMERCIAL BUILDING INSPECTOR COURSES
2015 RESIDENTIAL BUILDING INSPECTOR COURSES
2015 COMMERCIAL BUILDING INSPECTOR COURSES
Advance your career with ICC Combination Inspector Designations
Achieving an ICC Combination Inspector Designation demonstrates your proficiency and flexibility in diverse building safety disciplines that opens many doors to a broad array of job opportunities. How do I achieve a Combination Designation? Candidates must pass exams and hold a current certification in the prerequisite categories listed below and meet applicable requirements for the corresponding designation.
Achieving Automatic Combination Designations: You will be granted Automatic Combination Inspector Designations once you pass all exams and prerequisites on your My ICC account. This system tracks your progress and detects your exam and prerequisite achievements, automatically granting you the combination for which you qualify!
From there, you will also have the ability to print the Wall Certificate for your combination inspector type. Because of unique requirements, not all certificates/designations apply.
Step 2:

Study at home with our in-depth ICC exam preparation system
STUDY AT HOME! with TLC's ICC certification exam preparation courses. Review exam questions by chapter, virtual flashcards, or take a simulated online residential or commercial building inspector practice exam. Know precisely when to take your actual exam via PRONTO.
Each ICC exam study program is custom-tailored to its specific ICC certification exam.
Programs include:
Navigating the 2015 ICC Building Code – A Code Primer: 
      (For the IRC, IBC, IMC, IPC, IFGC or NEC Codebooks.)
Building Inspector Study Guide: 
      (For the B1, B2, M1, M2, P1, P2, E1, or E2 exam.)
Code Reference Quick-Cards: (Exam Specific.)
Codebook Fast-Tabs: (Codebook Specific.)
Online Study Center: (One-year unlimited access.)
Pass your ICC certification exams conveniently, and at home. When you use the (TLC) Thompson Learning Corp, ICC Certification training system, your success is guaranteed!
To summarize, with TLC and PRONTO, you study for your exam at home, then take your building inspector certification exams online via PRONTO. Now passing your next building inspector test is more efficient, comfortable and convenient, than ever before.
Our ICC Certification Exam Preparation Courses prepares you to pass your ICC Inspector Certification Exam. With a little TLC, you will soon become an ICC Certified Building Inspector!
The Most Intelligent Way to Pass
About our Online Study Center

UPDATED: New Online Testing Environment! (1Year Access) We proudly announce the release of our new ONLINE Study Center.

Gain access to practice questions and specific online content relating to your chosen exam(s). Choose between online chapter reviews, and ICC practice questions, then test your knowledge with simulated timed ICC practice exams.

Use our online chapter reviews, virtual flashcards, and sample questions to verify your knowledge. Our simulated final exams will demonstrate your readiness to pass your ICC exam!
Flashcard Study Mode
Flashcard study mode allows you to view individual practice questions, as well as keep track of your progress. Additionally, you can focus your study by toggling answers you have mastered to study only questions requiring more review
Exam Simulation Mode
Exam simulation mode enables you to take timed simulated exams formatted similarly to the actual ICC Inspector Exam. When you consistently pass our randomized ICC certification practice test, you are ready to schedule your ICC Test.